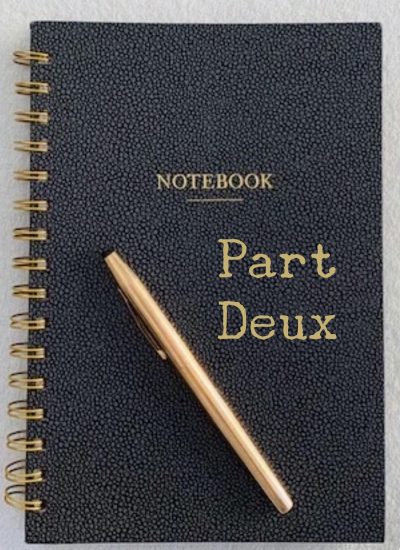 5
Melissa bumped the car up over the curb and, as she drove through the gravel parking area, she noticed a figure down by the creek. When it turned and ran, she realized it was Brett. Throwing the car into park, she whipped open the door and jumped out, yelling his name. He didn't stop, so she tore off after him. She never would have caught up if he hadn't tripped and fallen by the edge of the creek. She reached him just as he got to his feet and, before he had a chance to make another run for it, she grabbed the hem of his tee shirt.
"Brett, stop it! Turn around here…and…look at me!" Melissa yelled between puffs of breath. Lowering her voice, she said, "Please."
Brett stopped struggling, but he wouldn't look at her. Melissa took hold of his shoulders and gently turned him toward her. "Sweetie, I know what happened. I know you read my journal. We need to talk about it."
"I don't want to talk about it. Not to you. Not to anybody!" He tried to jerk away, but she held tight.
"I don't blame you. What you read was some pretty bad stuff. You were never supposed to see it."
Brett's resolve melted and he started to cry. "I wasn't snooping, Mom. Honest. I just needed some old magazines, and so I got into that drawer, and that's when I saw it. I know I shouldn't have read it. Please don't be mad. I'm sorry." He was fairly sobbing at this point and they both dropped to their knees.
Melissa tentatively reached for Brett's face and, when he didn't pull away, she wiped his tears. "Brett, I'm not mad at you. I'm not thrilled that you went through my things, but I'm not mad. You know what you did was wrong, but that's not what's important right now. What matters now is what you read. I need to explain it to you."
"No, you don't." A little of his fire returned. "I'm not a baby. I know what you were talking about. What Dad and Aunt Kat did. I don't need anybody to explain that."
"Well, we still have to talk. It goes way beyond what happened between them. But, come on, I don't want to do it here. Let's go home and I'll do my best to help you understand this." Melissa stood and held out her hand. To her relief, Brett took it.
As they strolled side-by-side toward the car, she glanced up at the soft clouds and breathed a prayer for guidance.
6
The ride back to the house held a funereal silence and, when they got there, Brett went inside first. Melissa called out to him as he headed for the stairs.
"Brett, don't go up to your room yet. I meant what I said about talking to you. The sooner we get this out in the open, the easier it will be."
"Mom, why do we have to talk about it? I mean, it doesn't have anything to do with me, right?" He followed her to the sofa in the family room. "Or…are you guys getting a divorce? That's it, isn't it? Dad's not hunting with Uncle Jake. He's not coming home!" Tears sprang anew as Brett allowed himself to be drawn into his mother's embrace.
"Brett, no…no. We are not getting a divorce. I don't want you thinking that. Dad will be home tomorrow afternoon, probably with a half-dozen squirrel carcasses." She tried to sound light and cheerful but didn't quite hit the mark.
"Well, I just figured, if Aunt Kat was Dad's girlfriend, you guys would be getting divorced and they'd get married." His voice sounded small and frightened, and he rested his chin against his chest while he picked at a hangnail.
Seeing her son so dejected broke Melissa's heart, and she had to push down the old familiar anger that sprang up in the back of her mind. "Brett, nothing like that is happening. I don't know where you got that idea, but Dad is not leaving, and he most certainly is not going to marry your aunt."
Brett looked up into his mother's eyes, as though searching for the truth…something safe to latch onto. "For real? I mean, one of the girls at school got a new stepdad when her mom cheated on her dad."
"Brett! Where did you learn such talk?"
"I told you, Mom, I'm not a baby. I know what…well…what sex is. And I know you're only supposed to do it with who you're married to, and if you do it with somebody else, you get divorced. At least, that's what happened to Mindy."
Melissa sighed heavily and leaned her head back against the cushion. "Sometimes, in some families, that is what happens. Because sometimes the mom and dad can't fix the problems that led to the…the cheating as you so aptly put it." This time she gave Brett a genuine smile. "But that's not the case with me and your dad. We're not getting divorced, and nothing bad is going to happen."
"How can you be so sure?"
With a quiet, controlled voice, she said, "Because your dad doesn't know that I know."
Brett's look of incredulity came dangerously close to making Melissa burst into laughter. What must this kid be thinking? That his mom has gone full tilt bozo? That she's been living in the "Land of Denial" for the past four years? She reined herself in and said, "It's true, Brett. If you read that entire passage, then you read what I said about not wanting anyone to know what I'd seen."
"But why not? Aren't you and Dad always telling me that if someone does something wrong to me, I should let you know?"
"Yes, but…"
"Well, what Dad and Aunt Kat did was wrong, and if you didn't tell anyone then you just let them get away with it. You just let them think what they did was an okay thing to do and so they probably did it over and over. If Aunt Kat hadn't moved away, they'd probably still be doing it!" He was getting excited again, and Melissa pressed her hand down on his knee as she shushed him.
"Honey, it's different with grown-ups. I mean, yes, you're right. We do want you to be open with us if someone is doing something that upsets you or could hurt you. We're your parents, and it's our job to look after you." At this, Melissa's stomach knotted a bit because it was her own written words that were hurting her son now. She pushed the guilt aside and continued. "I can't explain everything to you so that you'll completely understand, but I can tell you this. I felt that, in order to protect you, I had to keep what I had seen to myself. It was hard, Brett. Really hard. I won't kid you about that. But it was what I knew I had to do. And even though you found out about it, I still believe I did the right thing. Way back when it happened, if I had let it fill me up and control me, it might have destroyed our whole family."
Brett was quiet for a moment, and then he asked, "Did you forgive Dad? And Aunt Kat? I mean, you wrote that you hated them."
"Yes, that's true. I wrote it and, at the time, I felt it. Maybe when you're a lot older, I'll tell you more about that. The important thing for you to understand now is that I learned some things that helped me accept what had happened. Not to like it, mind you, but to accept it. And, yes, in time I was able to forgive both your dad and your Aunt Kat. Now I'm hoping you'll be able to do the same thing. Not only that, but I hope you'll forgive me for hurting you."
"What do you mean?"
"Hey, buddy, just because you were reading something that was never meant for your eyes doesn't mean it didn't affect you. You discovered some pretty disturbing stuff today about people you love. I know how hurtful that is, and I'm so very, very sorry you had to find out. If I hadn't left that journal there, you would have never read it. But, right or wrong, you did. And now we have to deal with it. So," Melissa said as she chucked Brett under the chin and placed her forehead against his. "I need you to promise me something."
"What…what do I have to promise?"
"When Dad gets home tomorrow, don't let on that you know any of this." She could read his confusion and hurried on. "I don't mean ever. I just mean when he first gets here. Like I said, I never told Dad that I knew about what happened between him and your aunt. You don't want to blindside him the way you were blindsided when you read my journal. I just want you to give us some time alone so I can tell him everything. It's going to be a lot harder for him than you realize. That journal entry made your dad out to be an awful monster. It's not a fair description of how things really were at the time. So, can you promise me?"
"Yeah, sure. But Mom…after you talk to Dad, do you think he's gonna make me talk about it with him?" Brett had a look that bordered on nausea.
"Probably so. But it'll be okay. Dad loves you very, very much. And no matter what you think right now, he loves me, too. Trust me on that."
"Okay. Can I go back outside now?"
"Of course. But stay in the yard. I've had all the adventure I can take for one day. I'll call you in when supper's ready."
They both walked to the door and Melissa watched as Brett ran to the middle of the yard and grabbed his football. Then, she turned and went upstairs.
7
Brett was far too young for the details, but everything Melissa told him was true. Incidents and events that transpired after that dreadful summer day had allowed her to come to a sort of peace with her husband's infidelity. She didn't like it, but she was able to move past it.
_______________
That first evening had been brutal. James came home totally unawares and, while he and Brett teased each other over pizza and corn chips, Melissa forced herself to toss in playful little remarks. After enough time had passed to make it appear normal, she excused herself, using the oncoming cold ruse. Back upstairs, she readied herself for bed and settled down with a book.
She was still staring at the same page she'd opened it to when James came in a half hour later.
"Brett-Man is all settled in for the night. You want to go make sure I tucked him in right?"
"What do you mean by that? I've never criticized how you take care of Brett!" Melissa felt a blossoming fire deep in her gut.
"Whoa, there! I didn't mean anything by it. Man, you really don't feel good. I think you'd better take something for that cold and get some sleep."
"Sorry. I didn't mean to snap at you. You're right, I'm just feeling lousy." Melissa slipped out of bed and went down the hall toward Brett's bedroom. As she got closer, she could hear the faint melodies of Mozart. From the time he was an infant, they'd played classical music to help calm him at night. It was something she was glad he hadn't yet outgrown.
Tiptoeing to his door, Melissa peeked in. Brett's eyes were shut, and his breathing was steady. Already sound asleep. She crept in and knelt beside his bed, gazing at his perfect seven-year-old face. She would lay down her life for this child. Putting up a front…even if it was denial…was something she could do if it meant saving Brett from growing up without both his parents.
As she headed back to her bedroom, James came out and said he was going out to his workshop for a little while. He kissed her on the forehead and went down the stairs. She stood there until he got to the bottom and turned out of sight, then she went into their room and sat on the edge of the bed. She didn't cry. She was cold and confused, but she was also all cried out. Turning out the light, Melissa started to climb back into bed but then stopped and turned toward the bedroom window. She walked over and looked down at the garage. The light shone through the garage window, and she watched James walk into view. He simply stood there for a few minutes, and then he picked up the phone on the workbench and punched in a number. Melissa raced over to the bedside phone and quietly lifted the receiver. She held her breath and listened.
"Kat, it's me. We've got to talk about this afternoon." James's voice sounded almost hoarse.
"Oh, James, I'm a mess. I can't even wrap my head around what we've done to my sister." The unmistakable sound of weeping surprised Melissa, but her anger was full throttle. Holding her palm firmly over the bottom of the receiver, she continued to listen.
"Kat, I've never done anything like that before. I swear. Things haven't been great around here for a while now, but it's not Melissa's fault. Work's been crazy, and we've been putting in ridiculous hours with nothing to show for it. I know she wants me home more. Hell, I want to be home more, but I've been stuck at the shop night after night. Then, today when I ran into you outside the shop…I don't know. Something just snapped."
"James, it was obvious you were upset about something. What's happening with your dad is terrible. You just needed someone to be there for you."
"That may be true," James said. "But that someone should have been my wife. Not her sister."
Melissa could hear Kathryn's choked sob. "I know…I know. My god, what have I done? What if she finds out? Oh, James, she'll never forgive us. Just the other day, she was confiding in me, telling me about her doubts and concerns because you were gone so much. I just…I just…" At this point, the sobbing was uncontrollable.
"Kat, hey, listen to me. We're equally guilty here. Neither of us had any right to do what we did. Not only are we married, but we're married to good people. People who don't deserve this."
"Well," Kat said, calming a little, "Melissa is a good person. Todd's another story. He left me, James. A couple of weeks ago. Melissa doesn't even know about it. I've just been floundering and, I don't know, maybe that's why I was so drawn to you today. But still…it's no excuse."
"I am so sorry. I'm sorry about Todd, I'm sorry about what we did, and I'm sorry I didn't call Melissa as soon as I found out about my dad. Nothing like this would have happened if I'd just picked up that phone. She'd have been there for me in an instant." Melissa watched as James paced back and forth, running his hand through his hair. "You know what's even worse? She actually did come by the shop today. Randy told me after I came back in from…well, you know."
"Oh, James. What if she'd seen us together? Oh, God…" Another fit of crying.
"Hush, now. Listen, I have to go. Melissa's not feeling well, and I want to get back in there and check on her. I just wanted to call and tell you we've got to keep this to ourselves and put it behind us. I don't know what I'd do if I lost Melissa…and Brett. I couldn't live with that. I love them both so much." Even though Melissa couldn't see his face, she could tell James was crying now, too.
"I'll die before I say anything. If I could, I'd turn the clock back and never come by the shop at all." Then she asked, "Did you tell her about your dad?"
"No. I put on this big show of being the happy working stiff. I just have too much going on in my head tonight. If I'd started telling her about Dad, I might have blown it all and told her everything. No, I'll talk to her tomorrow. Put some space between what I did to her today and what I have to tell her about Dad. That alone is going to wreck her. She loves my dad like her own." With that, he hung up the phone. Then there was a click as Kathryn's line disconnected.
Melissa stood frozen for a few moments, the receiver glued to her ear, before her wits returned and she hung up. She turned back to the window and looked toward the garage. James was standing at the workbench. Hunched over, was more accurate. She could see his shoulders heaving as he continued to cry. She felt a sudden release of tension and was struck by the dissolving anger that had, just moments before, nearly consumed her. She was hardly aware of returning to bed and climbing under the covers. Her last thoughts before drifting off to sleep were of her father-in-law and what possibly could be so traumatic that it would drive her husband into the arms of another woman.
The following few days put things into a clearer perspective. James's father had been diagnosed with stage 4 lung cancer and his prognosis was bleak. Six months at best. James was right when he told Kathryn that Melissa was devoted to her father-in-law. The news devastated the entire family. She shoved the episode between James and her sister into the furthest corner of her mind. She'd deal with it later. Right now, her family needed her.
A couple of weeks passed before she heard from Kathryn. After making a perfunctory call to tell her about James's father…she couldn't let on to anyone that she was aware Kathryn already knew about it…she'd wiped her sister from her mind. So, when Kathryn did call, Melissa was taken aback.
"Hi, Melissa, it's me. Listen, there's something I need to tell you. I've been putting it off, especially since I learned about your father-in-law, but I really need to let you know what's going on." Melissa's chest tightened as she realized her sister was about to confess everything. She couldn't face this. Not right now. But before she could change the subject, Kathryn went on. "Todd left me a few weeks ago. He filed for divorce yesterday."
Relieved to know her sister was not about to make a pronouncement of her brief liaison with James, Melissa warmed a bit. "Kat, I'm so sorry. What happened?"
Kathryn told her about Todd's supposed need to go off and find himself, and how he had never really been happy in the marriage. Supposedly no one was to blame, but he just couldn't be tied down. Kathryn went on and on, but Melissa only half-listened. Her thoughts returned to her father-in-law and how she needed to end this conversation so she could get on with the important business at hand.
After deftly extricating herself from the phone call, she realized her feelings toward her sister were rather hollow. She didn't hate her anymore, and she wasn't particularly angry. She just felt a sense of apathy. Considering where she needed to be directing her energies, she decided that was just as well.
Four months later, James's father was laid to rest. As the cold November wind cut through the tent at the cemetery, Melissa stood between James and Brett, holding both their hands, and she promised herself that she'd do everything in her power to keep her family together.
Time and quiet contemplation assisted Melissa in her quest for normalcy. Eventually, she was able to put that summer, and all the pain it evoked, behind her. Shortly before James's father died, Kathryn took a job out of state. As far as Melissa knew, she and James were never again alone together. At family gatherings, they acted like polite strangers. Civil, but aloof. That made it a bit easier for Melissa to let go of the memories. After a year or so, it seemed as though the entire incident had happened to someone else. Every day, it became easier to be just James's wife and Brett's mom. No pretense. No paranoia. She had almost been successful in convincing herself that she would never have to confront James with what he had done.
_______________
Melissa walked into her room and picked the journal up off the bed. She started to open it, then reconsidered and went to her closet. Way back behind her out-of-season clothes stood a stack of boxes labeled "Shoes" and "Purses." She took down the top two boxes and removed the lid from the third. Lifting out a couple of purses, she came to a bundle of old journals and notebooks with curled edges. She put the incriminating journal in with the rest, replaced the purses, and closed the box. After putting the other boxes back, she closed the closet door behind her and walked out of the room.
Sounds drifting down the hall told Melissa that Brett was back inside and playing a video game. She went into the bathroom, shut the door, and opened the linen cabinet. Reaching behind the large stack of towels, she retrieved her current journal. As always, her trusty ballpoint was attached.
Dear MAT,
 This has been the hardest day of my life. I would have sworn that nothing could have been worse than that awful summer day so long ago, but I was wrong. Today I let the most precious person in my life get hurt. Because of my carelessness, Brett had his world thrown into a tailspin. I think he's going to be okay, but it's not over. Tomorrow, I have to tell James that I know. That I've known all along. I'm not sure how he'll react. My guess is, he'll feel ashamed and humiliated. And probably very, very scared. Four years ago, I might not have minded that so much. Might have even relished it. But now, I need to assure him that as hurt and disappointed as I was, I've long since reconciled myself with it.
 I always thought I'd be afraid if I ever had to confront James about this. I thought it might spell the end of our marriage. But I'm not afraid now. If anything, I'm kind of relieved. I love James, I know he loves me, and we both love our son. We'll work through this together.
 I realize tomorrow's going to be tough, yet I feel more at peace than I have in years. It won't be the end of our marriage, but it will be the end of one thing…the hidden secret. Getting it all out in the open is going to make our marriage, and our family, stronger than ever.
 And I don't just hope this. I know it.