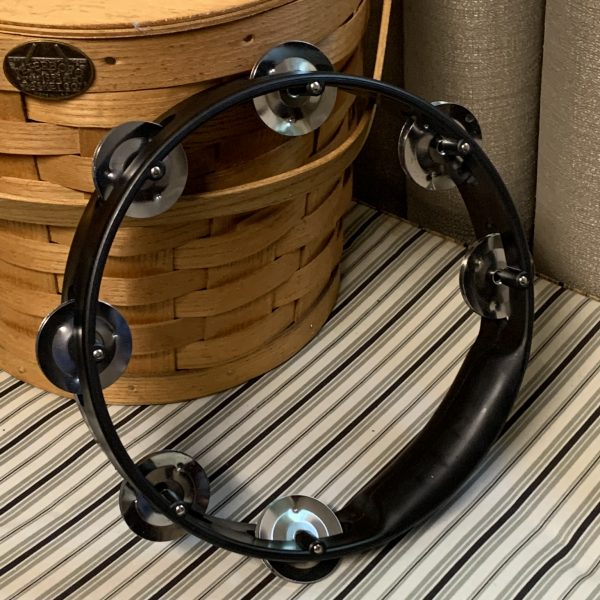 Flashback – 1965. 
My 4th grade class is preparing for music time.  As the teacher brings out the box of instruments, I silently pray, Please, oh, please…let me get the tambourine.
The teacher walks slowly to my desk and smiles.  Such a warm, sweet smile.  I smile back and feel certain that, this time, I'll get it.  She reaches into the box and, quick as a wink, places a wooden block and a stick in front of me.  Before the disappointment fully registers, she's off to the next desk.
I stare at the block.  I stare at the stick.  I stare at the block again.  Just as I gather my wits and start to raise my hand, I turn and see the teacher giving the treasured tambourine to a fellow student.  To make matters worse, it's a student who's gotten it many times before.  Swallowing the lump in my throat, I pick up the block and stick and begin keeping time to the music, desperately hoping no one notices as I blink away the tears.
***
A faulty memory precludes me from recalling intricate details such as my classmates' faces, how well I did in my studies, or even the teacher's name – although I do think it might have been Mrs. Connor – but, what I will always remember about the 4th grade is how it felt to never, ever get the tambourine.
My 10-year-old imagination had given that inanimate object a great deal more power than was warranted.  But at the time, my heart believed the tambourine was the coolest instrument the teacher had to offer.  I'd fantasized about being the one chosen to play it during music time.  Shy and awkward and far from pretty, I had very little going for me in the popularity department.  Still, I convinced myself that, given the chance to play that tambourine, I'd blow everyone away by my rhythmic flair.  In reality, it was nothing but an outlandish girlhood dream.  And back then, I had a million of them.
As the years fell away, elementary school turned into middle school which turned into high school.  During that time, my self-saboteur psyche managed to accumulate a laundry list of perfectly justifiable reasons why I should feel lousy about my lot in life:
I wasn't part of the "in" crowd.
I was nearly always the last one picked for team sports.
Dates were few and far between.
I never went to a prom.
My appearance was all skinny legs, frizzy hair and pale skin.
And, to top it off, I was a freckle-faced redhead.
During high school, I was asked to go steady by only one boy, and I wound up marrying him at the end of my junior year.  It was partly because I truly believed I was in love, but it was also because I feared it might be my only chance.  The angst of Janis Ian's At Seventeen was never lost on me.
The marriage lasted nine years but, since we were practically still children ourselves, it was pretty much doomed from the start.  Ours wasn't always a happy union and, during most of our time together, I felt invisible.  In the end, I realized the relationship was never going to change for the better, but it took a lot of uncharacteristic strength to finally call it quits. 
Strangely, I slowly began to thrive after the divorce.  It was a stressful, scary time and I floundered a lot, but I gradually learned the mechanics of being a single mom.  I managed to keep the bills paid, put dinner on the table and clothe my daughters – even when money that was supposed to come in didn't.  After a great deal of soul searching, I finally got it through my head that the end of my marriage didn't make me a failure.  It was simply a fragment of the fabric that made up my life.  A life, I might add, that I wouldn't trade for anything. 
I've now been joyfully married nearly 37 years to a man who continues to be the yin to my yang.  We worked together to bring up my two wonderful daughters.  They married great guys who have never once treated me like a demon mother-in-law.  And we've been blessed with a boatload of grandkids and great-grandkids.  I have a diverse group of friends whom I treasure, and I'm fortunate enough to spend my days in a little woodland paradise that simply oozes tranquility. 
That gangly, not-so-attractive dreamer from my youth never imagined such a simple existence could be so rich.  She'd be particularly pleased about a special treasure I obtained over 20 years ago on my 45th birthday.  That year, in an effort to prove to me that I was indeed worthy, my oldest daughter gave me the gift I'd waited three and a half decades for.  I still remember my delight when I opened the bag and drew out a circular instrument edged with shiny metal discs.  The attached note read, "You are cool enough for a tambourine!"  Giving it a few good shakes, I felt a foreign level of excitement bubbling up inside me, and I began to laugh.
The silent pleas of one little 4th grade girl had finally been answered.